KENIFINE: High functional antibacterial plating technology from Takashu Kagaku.
KENIFINE: True antibacterial technology from Takashu Kagaku 
Why not use our super antibacterial plating, super antibacterial powder, and the applied products to: 
Solve fungus, mold and slime problems?
Create a new product?
Start a new line of business?
KENIFINE is a registered trademark of Kobe Steel Ltd.
KENIFINE received Japan Inst. of Metals and Materials Technical Development Award in 2004
Our company manufactures KENIFINE products based on the license agreement with Kobe Steel Ltd.
We have acquired KENIFINE technology license and sublicense rights (the right to license to a third party) from Kobe Steel, Ltd.

The difference: KENIFINE vs. Conventional antibacterial material?
From the technical data of Kobe Steel, Ltd.
Immediate antibacterial action!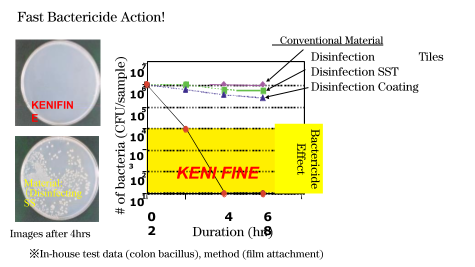 Images after 4 hours *In-house test data (E. coli), test method (film contact method)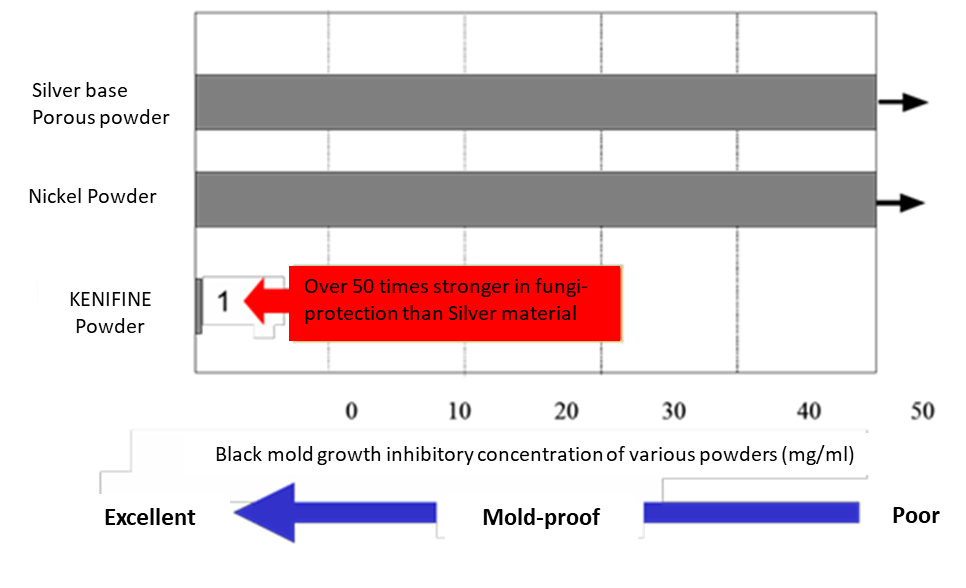 2.0 ml of Aspergillus niger spore suspension was added to 400 ml of PD medium as a culture stock solution, and the one with the powder of the specified concentration was left for 1 week. The maximum concentration at which the growth of hyphae was not visually observed was evaluated.
Outstanding mold resistance!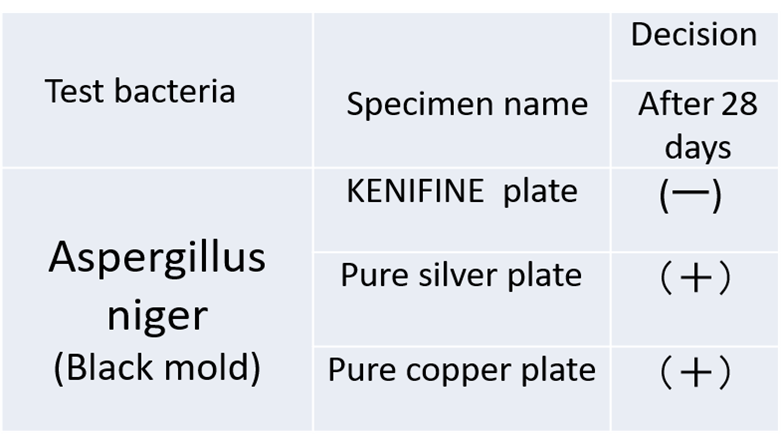 (-):Growth of the mycelium of fungi was not recognized.
(+) : Slight growth of mycelia of fungi was recognized
Niigata Prefecture Kankyoeisei Research Institute
Long lasting sterilizing action!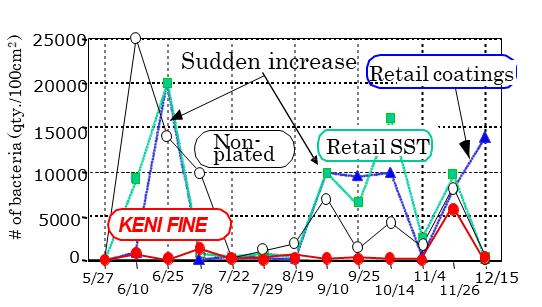 Tested on sinks ※ In-house test data, method (wipe method)
KENIFINE plating applicable materials
Stainless steel, copper alloy, aluminum alloy, titanium, etc.
KENIFINE plating applicable size
・Standard(Type A・・・1300mm×600mm×700mm
・Chrome(Type C)・・ 900mm×380mm×700mm
・Gold( Type G)・・・・・・・・・ 700mm×350mm×700mm
・Specialty Silver (Type S)・・・・・ 300mm×300mm×600mm
*Please contact us for larger sizes and plating film thickness.
Size of anti-bacterial powder
KENIFINE powder size: about 5 to 30 microns.
Anti-bacterial Print processing
Please inquire about anti-bacterial Print processing
Production of various antibacterial processed products and equipment
We will help you develop new products. We can make products from scratch regardless of plating treatment. From plated products to printed products. Please contact us at your convenience.

A highly specialized nickel alloy plating technology developed by Kobe Steel Ltd., which in comparison to conventional anti-bacterial material, KENIFINE is more than 10 times stronger in its disinfecting strength, over 50 times more powerful in fungi-protection in addition to its anti-algae and virus qualities.
Takashu Kagaku Co., Ltd. acquired its license for KENIFINE technology in 2002
Our company offers four types of plating treatment, powder production, printing processing using powder, and application products related to the above.     
When you are ready for KENIFINE:
History of KENIFINE at Takasyu Chemicals
Strength of Takashu Kagaku
Number one application track record!!
◆Since the start of KENIFINE in 2002, it has been used by many customers
 and has the highest number of applications.
◆Only our company can process gold and special silver.
◆We have a long track record in KENIFINE powder, and most of the application results for KENIFINE powder are manufactured by our company.
◆We focus not only on plating orders, but also on the manufacturing and sale of plated products. We can engrave your original logo on products as well.
◆We always keep an eye on the plating quality and have a wealth of proprietary antibacterial data.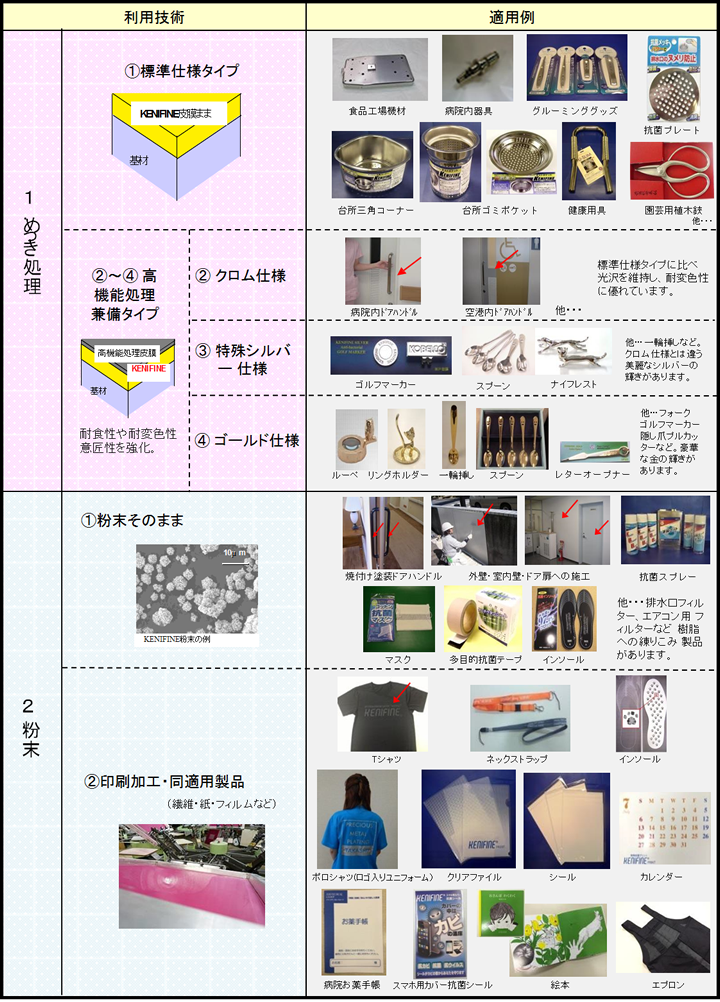 Would you like to add an antibacterial feature to your product?
Free estimates, of course!
Feel free to contact me for anything!